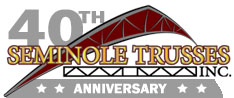 Seminole Trusses, Inc.
Corporate Headquarters
30726 Blue Star Highway
P.O. Box 69
Midway, Florida 32343
850.575.0102
850.575.4413 fax
E-Mail: trusses@seminoletrusses.com
We want to hear from you!
Seminole Trusses is committed to being your partner of choice. Our facilities produce high quality products for residential, apartments and multiplexes, condos, townhomes and commercial properties.